Check out the calendar for details.
Write-ins. They're like meet-ups, only better, because you get to get some writing done!
Write-Ins are for those among us who like to write in the company of other people but are serious about getting some work done. The rules are: Get your beverage, open to your page, and save the talking for later.
We encourage you to socialize before and after we write, because that's how the verbal exchange of moral support happens, but we insist you keep quiet during. Your respectful silence at the Write-In is what we call tacit support.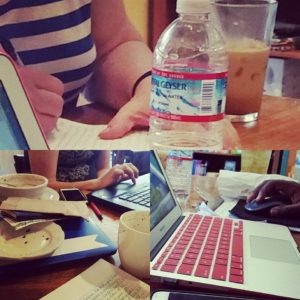 We offer members several write-in opportunities a week ~ some online and some in real life, some free and some for a minimal charge. Check the calendar for a write-in that works with your schedule. Occasionally, the location changes at the last minute, so keep an eye on the calendar and Facebook page to stay up to date.
Please follow and like us: