The Artist's Way workshops, as presented by
To Live and Write in Alameda
, stretch across an entire season and are designed to help you reconnect with your creativity. We use Julia Cameron's
The Artist's Way Workbook
to guide us through her process of returning to that which often gets pushed aside or left behind in our busy lives.
$250. Includes The Artist's Way, The Artist's Way Workbook, 13 meetings, and membership in a private Facebook group. Wednesday nights April 24 through July 24 (no meeting July 3). Facilitated by Bronwyn Emery. 
To apply, contact Bronwyn at info@toliveandwrite.org. If you're eager to do the workshop on your own or with friends and would like some tips and encouragement, just ask. We charge money for the simple reason that there are folks out there who need structure, accountability, and to have paid for something to follow through with it.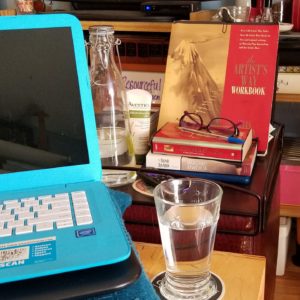 * * * * * * *
Bronwyn Emery is the founder and facilitator of To Live and Write in Alameda, a writing community that exists on Facebook and IRL. In past lives, she has been a columnist and Our Town editor at the Tracy Press, the Marketing and Community Relations Director at Alaska Sports, Inc., and a ghostwriter for self-help gurus. She has mentored new writers off and on since 2002 and is currently a writing coach, storyteller, and novelist who conducts interactive writing and cross-creativity labs and workshops for adults. Several times a year she hosts retreats for a select group of writers in various locations in California, Nevada, and overseas. In her spare time she produces monthly open mics (Local Voices) and curated story nights (Alameda Shorts) in Alameda, California.  
Questions, concerns or suggestions? Email: info@toliveandwrite.org

Please follow and like us: