~Been there, done that, and totally excited to do it again next year. It was awesome! Can you do it?~
Join 10 other writers for a writing retreat in Pollock Pines.
You have a writer in your soul. Do you feed her regularly, or tease her with broken promises?
Do you crave time and structure to organize your outline, bridge scenes, develop characters, or focus on weaving threads of thought into a complete story, but can't quite make it happen on your own?
Do three days in a house without chores and family drama to distract you from writing sound like heaven?
Would it bring you joy and confidence to spend time connecting with other writers, comparing notes, commiserating, and celebrating the challenges of chasing the twin dragons of writing to please ourselves and writing to please others?
If you answered yes to any of these questions, this writing retreat could be exactly what you need. Write in the Woods is a 3-day getaway designed to show you how to tap into inspiration even when blocked, help you write to goals you find difficult to achieve alone, and immerse you in a supportive community of fellow writers who are genuinely interested in your progress.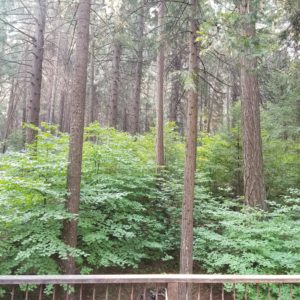 The Write in the Woods price includes:
accommodations*
all meals except dinner on Saturday night — organized by Heidi Benson Stagg
group writing activities and discussions
workshopping the specific challenge(s) your project presents
individualized attention / one-on-one coaching
goal setting, tracking, and accountability to pull you through your project
time to write or dream on your own
opportunities to share your work with the group
opportunities to make deep and meaningful connections with other writers
the chance to dedicate an entire 3-day weekend to living the life of a writer who writes
Here's a peek at what we're doing:
There are several check-in times available on Friday (below), but if you can get there by 9 a.m., you will have access to everything on the schedule, including breakfast.
We begin Saturday and Sunday with movement and inspiration. Choose a group walk at sunrise or yoga on the deck at 7 a.m. Keep your Daily Pages notebook and a pen with you, because the muse loves an early start.
We discuss our goals and intentions for the day over breakfast at 9 a.m. If you like to sleep in, this can be your first activity of the day—but you are expected at the table. Your presence is important for fostering a strong and successful group dynamic. There are plenty of opportunities for personal time throughout the day.

By 10 a.m. each day, we're all washed, watered, fed, and ready to go. We draw from our breakfast discussion to tease ideas and inspiration into short, complete pieces you can point to as progress in your work. Hold onto them, because later in the day we're going to ask to hear what you've been writing.
We break for elevensies, because we're fancy like that. You can stay with us to continue work on the short story, slice of memoir, scene, or chapter you started, or you can move away to another part of the cabin to write without my input.
Lunch at 1 p.m. is the second required gathering of the day, but what we talk about is up to you.
At 2 p.m., it's time to settle in for three hours of serious, uninterrupted writing time. I will check in on you individually and make myself available for 20 minutes of one-on-one coaching. Bounce your ideas off me, ask for a structure check, celebrate a breakthrough, vent about a storyline you're struggling with, or whatever you need related to your current writing project—let me know how I can serve you.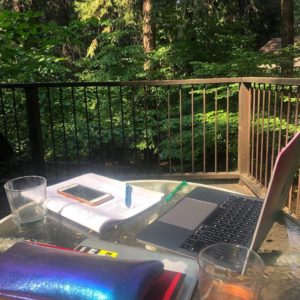 Light snacks come out (quietly) at 3 p.m.
At 5 p.m., it's Happy Hour! Fresh snacks and wine or a cocktail, if that's your thing, and the chance to share your work out on the deck with a friendly and attentive audience. Officially, we're done writing for the day, but don't let us stop you from continuing inside with your earbuds and your muse. Feel free to wander off around six to enjoy time to yourself and get ready for dinner.
Dinner on Friday and Saturday is at 7 p.m., and yes, these are required gatherings. This is where we recap the day, track goals, take a look at the next day's agenda, and get to know each other even better than we already do.
Friday's dinner is a family-style potluck in the main house. Once we have a mostly full roster, we will work out a menu with the group.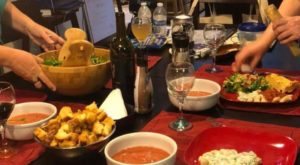 If you're feeling social, please join us at 9 p.m. Friday night in the main house for a few rounds of Balderdash and Taboo, and Saturday night for popcorn and a movie. Please let me know if you like to go to bed early so we can keep the night owls in the noisy house. You never know what we'll get up to.
Every activity outside of breakfast, lunch, and dinner is optional. This schedule provides structure, but there's a shadow schedule for writers who are more productive on their own.
CHECK IN / OUT
We know traffic can be insane on Fridays and Sundays, so you are welcome to check in and out at the following times.**
9 a.m.
11 a.m.
1 p.m.
3 p.m.
5 p.m.
In order to keep disruptions to a minimum, please plan to arrive and depart as close to these times as possible, but not between. If you would like to come up early (Thursday night) or leave late (Monday morning), please contact me personally.

Write in the Woods with us:
$499
The $200 nonrefundable, transferable deposit is required by June 30; payment in full by July 20. I regret that as a solopreneur I am unable to refund any part of the weekend–but if you can't make it, you may sell or gift your place in the retreat to another writer or use it as a credit for coaching or future workshops. Use paypal.me/toliveandwrite and include your name and contact information in the message. For alternative payment information, email info@toliveandwrite.org.
Write in the Woods with us.
You know you want to.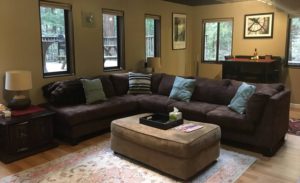 *sleeping options are sleepover-style and range from standard mattresses to sofas, sleeper sofas, futons, and air mattresses. You might be asked to share a bed or bunk up in an open loft with two others.
Please follow and like us: