Imagine yourself on the upper level of Amtrak's California Zephyr as she winds her way across the Sierra Nevadas to Reno, November snow dusting the mountain tops and majestic pines parading past your window as you compose the opening scenes of your NaNoWriMo novel. Doesn't it sound like a dream to your writer soul? Last year, a group of writers just like you made it a reality. It was such a success, we're doing it again this year. Join us. You know you want to.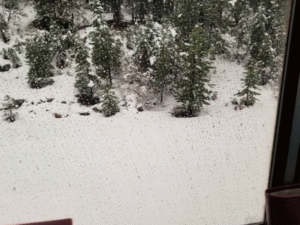 You don't have to participate in NaNoWriMo to Write on the Rails with us in November, but you do have to engage the drive to ignore your inner editor and power through extraordinary word count goals if you want to get the most out of this 4-day retreat.
We meet at the Emeryville Amtrak station by 8 a.m. Thursday, November 1, climb aboard, find our seats, and meet up in the observation car with laptops, notebooks, snacks, and an eagerness to launch ourselves into writing that cannot be denied. If you're participating in NaNoWriMo, this is the first day to make a real dent in your 50,000-word goal. While the world slips past your window, you and your fellow writing passengers will knock out word count goals faster than the train can pull through stations. We'll use writing sprints, timed focus blocks, scene synopsis challenges, and a whole lot of encouragement and moral support to keep you going. Our collective energy and enthusiasm will be the steam that keeps your engine chugging away.
Before you know it, we'll be disembarking in Reno, hailing an Uber, and on our way to The Peppermill. Check in, settle in, put your feet up, and turn your brain off for an hour or so before meeting up with us again for dinner and socializing.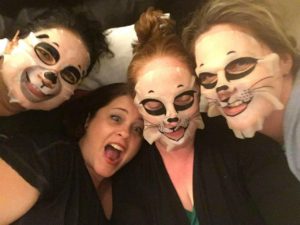 The group writing activities continue Friday and Saturday in the main retreat room, with several 3- and 4-hour blocks you can sign up for (or opt out of) across both days and into the night. You choose whether to write alone or with the larger group.
We're back on the train early Sunday morning. The observation car will probably be occupied for most of the trip, so make plans to pair off or write on your own to accomplish your return-trip goals.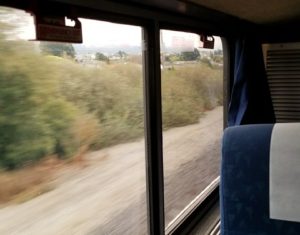 When you embark on this adventure aboard The California Zephyr, you are a member of a tight-knit group of writers who have already connected on Facebook in a secret group where you have shared your word count goal, the premise of your novel, a brief idea of who you are, and whatever snacks and/or drinks you plan to bring on the trip. This group remains in play throughout the weekend as a tool to record achievements, set reminders, coordinate meals, make plans, and continue to encourage each other.
As the month progresses, so this Facebook group evolves. Think of it as an extended retreat, where the idea of old-fashioned moral support in a modern world really comes into play and you find yourself invited to several follow-up write-ins specifically for this group. This group exists to provide custom support, accountability, and camaraderie to this specific set of writers.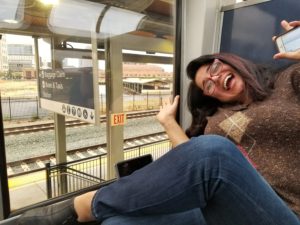 The Write on the Rails price includes:
four days dedicated to writing – two on the California Zephyr, two at The Peppermill in Reno
group writing activities and discussions
alone time to write, relax, and write some more
individualized attention / one-on-one coaching
goal setting, tracking, and accountability to pull you through your project
opportunities to workshop specific challenge(s) your project presents (optional)
opportunities to share your work with the group
opportunities to make deep and meaningful connections with other writers
the chance to write on a train as it crosses California, climbs snow-covered mountains, and emerges in Nevada
the chance to do it all again in reverse on the trip back
a solid chance to 'win' NaNoWriMo this year
membership in a secret Facebook group
invitations to follow-up write-ins throughout November, exclusive to retreat participants
The Write on the Rails price does NOT include:
train

tickets and/or insurance and/or associated fees
accommodations and/or associated fees and/or deposits
food and/or beverages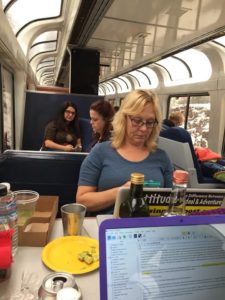 Write on the Rails with us for $459*
A $200 nonrefundable but fully transferable deposit is required by October 15; payment in full by October 22. I regret that as a solopreneur I am unable to refund any part of the retreat–but if you can't make it, you may sell or gift your place in the retreat to another writer or use it as credit for coaching or future workshops. Use paypal.me/toliveandwrite and include your name and contact information in the message. For alternative payment information, email info@toliveandwrite.org.
Take this opportunity to feed and pamper your writer self like you've always promised. Write on the Rails with us this November.
You know you want to.
*If you would like us to take care of your train travel, hotel accommodations, and food and non-alcoholic beverages for this retreat, the total price becomes $1,000. Email info@toliveandwrite.org to discuss payment options.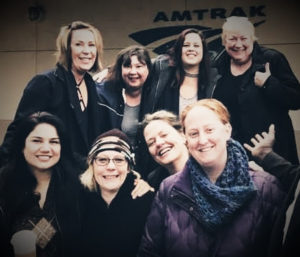 Please follow and like us: