Welcome to The MEG. Kick off a year of self-determination and strong writing with 31 days of write-ins, check ins, solid support, friendly competition, and heart-felt celebration — all designed with you and your efforts in mind. 
It's one thing to tell yourself and/or the Universe that you want to make something specific happen with your writing by the end of January. It's a whole new level of commitment to tell a group of other writers and a writing coach who are invested in your success.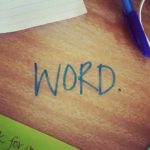 When you sign up for The MEG, you choose what, when, and how you write. Whether you come to the challenge knowing exactly what you want or you need to spitball with others first to figure it out, our style of old-fashioned moral support in a modern world is surprisingly effective. We help prioritize writing in busy lives by bringing it forward from someday to today. A challenge like The MEG is designed to encourage regular, rewarding writing habits, maintain your focus, and supply opportunities to share your work.
The beauty of The MEG is in the variety of writers, new and established, who can and do join in to do the work and make magic for themselves. No two goals are the same. This unique mix makes for exciting discussions and check-ins and rewarding connections.
Here are a few ideas for The MEG, based on past participants:
Flesh out the outline of a new novel
Draft 10 short stories for a collection to publish this year
Write the middle act of this book
Read my poetry at three different open mics this month
Start journaling and do it every day
Revise and edit the pitch for my non-fiction book
Finish the first draft of my novella
Write out all the suspect interviews
Pitch one article idea per week to five publications
Find one contest a month to submit to, make a list, and start
Go to one write-in a week and stay at least until I have 500 new words
Work my author platform on Twitter every day and get to 1,000 followers
What's your goal? What are your intentions for 2019, and where would you like to start?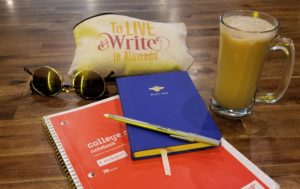 You are welcome to join our Facebook group, To Live and Write in Alameda, where you can follow along for no charge.
If you'd like structure, accountability, and a greater chance at achieving your January goal, register for one or all of the following: 
Morning MEG Sessions: $45 each
Each session is 3 days
90 minutes group coaching online per day + writing offline
discussion, goal-spotting, writing, sharing
Session 1:
January 7 – January 9
8 to 9:30 a.m. PST
Session 2:
January 14 – January 16
8 to 9:30 a.m.
Session 3:
January 21 – January 23
8 to 9:30 a.m.
Session 4:
January 28 – January 30
8 to 9:30 a.m.

Night MEG Sessions: $30 each
Each session is 2 nights
90 minutes group coaching online per night + writing offline
discussion, goal-spotting, writing, sharing
Session 1:
January 13 – January 14
8 to 9:30 p.m.
Session 2:
January 20 – January 21
8 to 9:30 p.m.
Session 3:
January 27 – January 28
8 to 9:30 p.m.

You're invited to follow along for no charge on Facebook; ask to join To Live and Write in Alameda to keep up on what's happening, or zing an email over to toliveandwrite@gmail.com.
Sign up to do The MEG your way.
Want to keep it going? Check out The MEG Chaser, a full year of masterminds, online sessions, coaching, and retreats focused on you and your goal (also available in 4-month chunks).
Jump on The MEG in January!
You know you want to.