March 15-18. Imagine yourself on the upper level of Amtrak's California Zephyr as she winds her way across the Sierra Nevadas, snow covered mountains and majestic pines parading past your window. You're in the company of other writers who are equally intent, equally invested in their writing, and happy to share the ride and the snacks. Our skills and experience vary, as do our projects and genres, but we are connected by the need to write our stories and share them with the world.
If this seems like an ideal setting for writing and being a writer, join us. If you'd like to avoid the train and would rather meet us at our destination Friday evening, that's an option as well.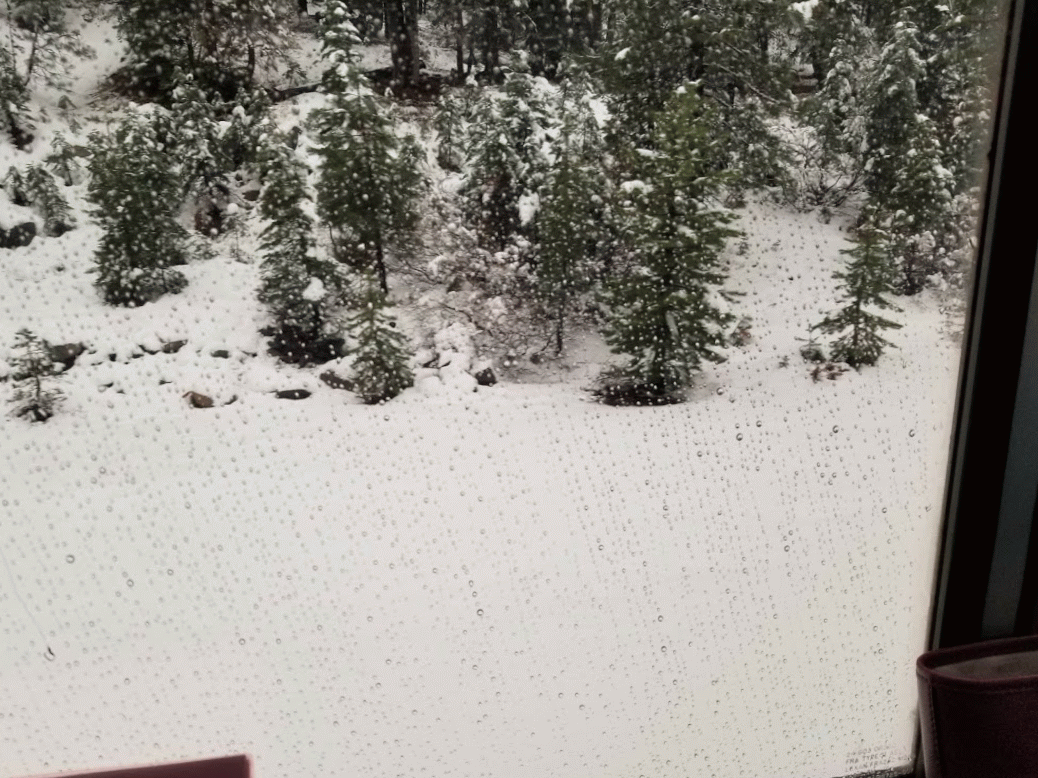 Those writing on the train meet at the Emeryville Amtrak station at 8 a.m. Friday, March 15 2019. We climb aboard, find our seats, and quickly meet up in the observation car with laptops, notebooks, snacks, and the eagerness to enjoy five hours writing on a train.
While the landscape climbs from city to mountain outside your window, you and your fellow writing passengers knock out micro-goals faster than the train can pull through stations. Your coach for the journey, Bronwyn Emery, will use writing prompts and sprints if needed, timed focus blocks, scene synopsis challenges, and a whole lot of encouragement and moral support to keep you going. Or … you plug your earbuds in, ignore Bronwyn, and just write.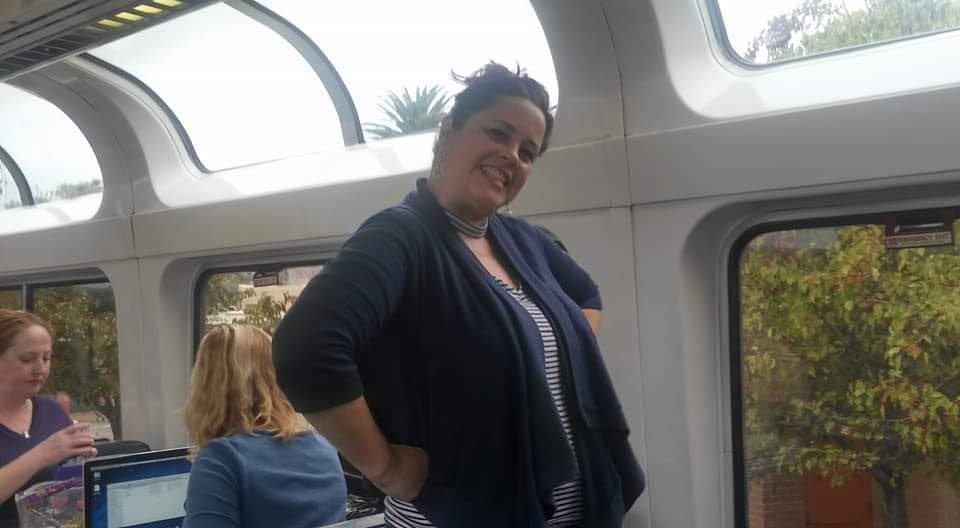 Or … you plug your earbuds in, ignore Bronwyn, and just write.
Our collective energy and enthusiasm will be the steam that keeps your engine chugging away.
If you're considering joining us on retreat for the first time, please email Bronwyn Emery at info@toliveandwrite.org to connect and make sure we're a good fit.
Before you know it, we'll be disembarking in Truckee, hailing an Uber, and on our way to our secret location in the mountains. If you skip the train ride, meet us at the house at 4 p.m.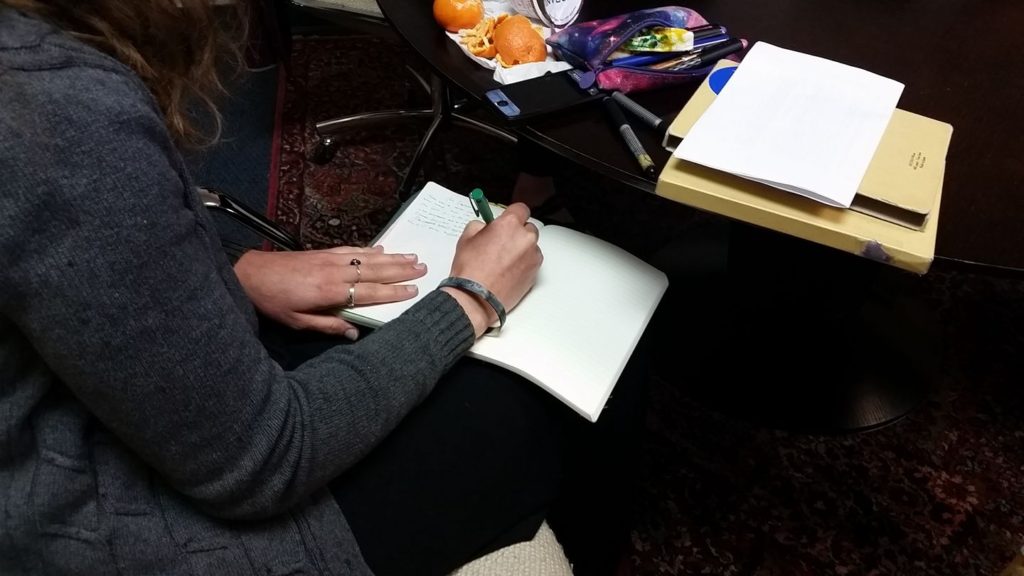 Friday afternoon is for settling in, relaxing, and more writing. Feel free to find your own space to daydream or continue tapping away at your work in progress for an hour or so before meeting up with us again for dinner and socializing.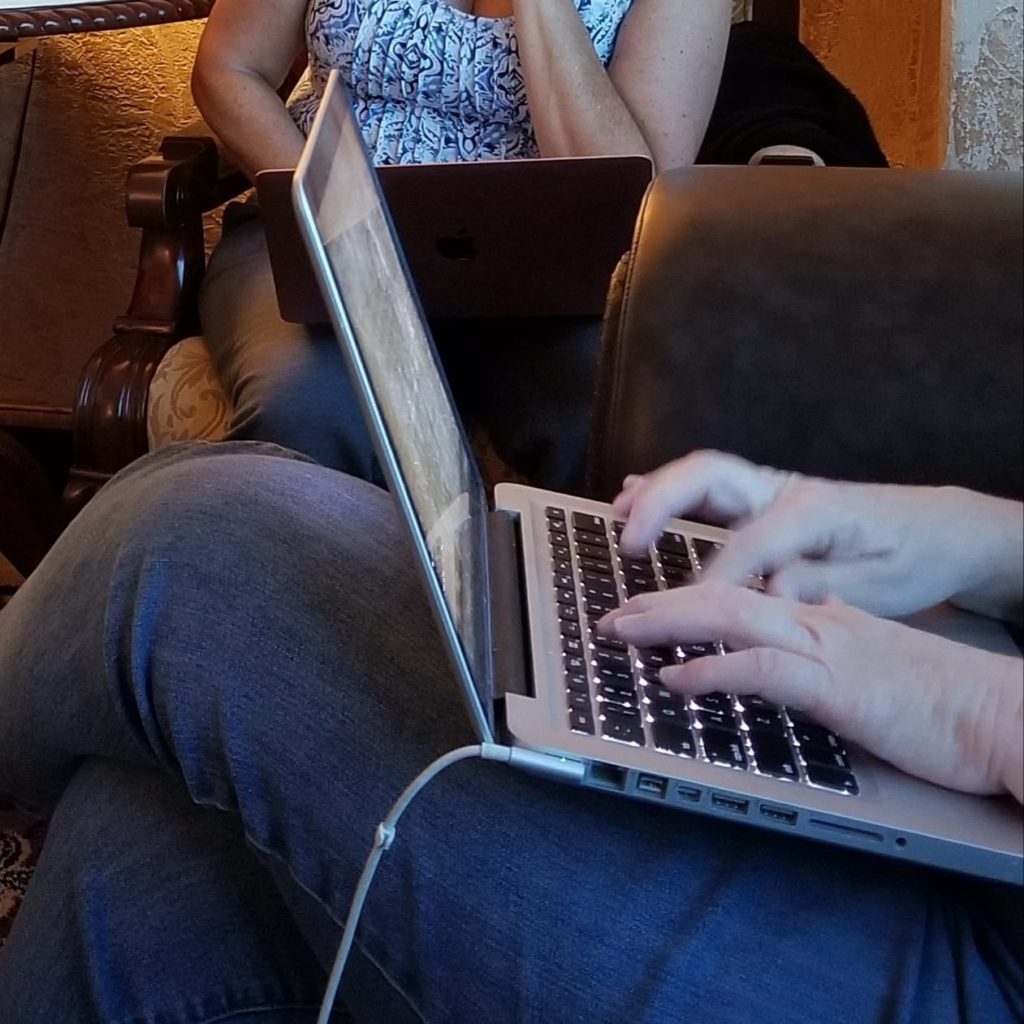 Writing continues across the weekend, with several 3- and 4-hour blocks of time schedule for you to choose between uninterrupted writing time, group exercises to stretch your skills and meet your goals, or simple healthy daydreaming.
We begin Saturday and Sunday with a walk at 7 a.m. and breakfast together at 9 a.m. The walk is optional, breakfast is not. Heidi Benson Stagg is our cook, and her gift leaves the rest of us to write and only worry about food when it's time to eat.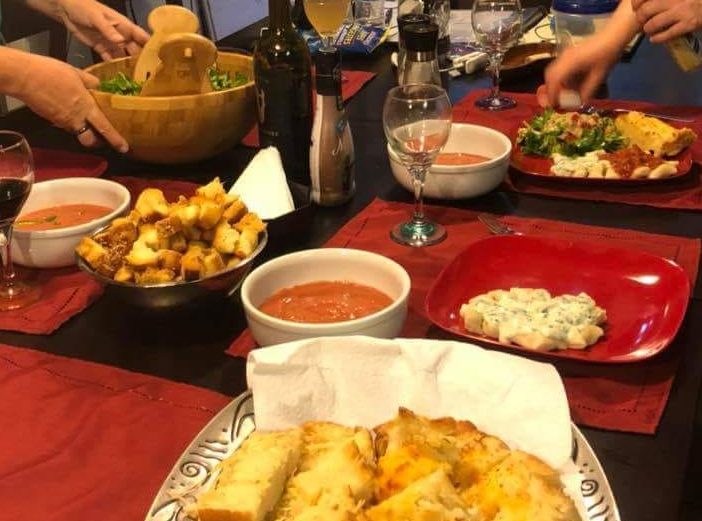 Lunch is served at 1 p.m. and we expect everyone at the table again for dinner at 7 p.m.—we find the communal meal to be a powerful reinforcer of connection, support, and inspiration.
We're back on the train early Monday morning. The observation car will probably be occupied for most of the trip, so make plans to pair off or write on your own to accomplish your return-trip goals. Wherever you decide to write on the journey back, Bronwyn will find you at some point to check in.
When you embark on this adventure aboard The California Zephyr, you are already a member of a tight-knit group of writers who have connected on Facebook in a secret group where you have shared a brief description of your work in progress, a note about your goals and intentions for the retreat, an idea of who you are, and a list of food preferences and other info we should know. This group is where we keep you updated on weather, accommodations, and what to expect on retreat.
As March moves into April, so this Facebook group evolves. Think of it as an extended retreat, where the idea of old-fashioned moral support in a modern world really comes into play and you find yourself invited to several follow-up write ins, write alongs, and opportunities to share your work.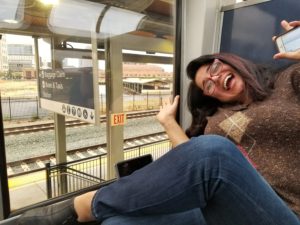 This group exists to provide custom support, accountability, and camaraderie for the writers who journeyed with you on this retreat.
The Write in the Snow retreat price includes:
round-trip train tickets from Emeryville CA to Truckee CA.
accommodations in the Truckee area*
meals at the house: breakfast, lunch, dinner, and snacks each day
group writing activities and discussions
goal setting, tracking, and accountability
workshopping the specific challenge(s) your project presents
individualized attention / one-on-one coaching with Bronwyn
time to write or dream on your own
opportunites to share your work with the group
opportunities to make deep and meaningful connections with other writers or dream on your own
the chance to write on a train as it crosses California and climbs snow-covered mountains
the chance to do it all again in reverse on the trip back
an entire 3- or 4-day weekend devoted to taking your writing seriously and being taken seriously for your writing.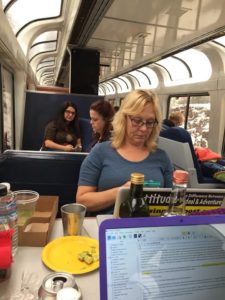 The Write in the Snow retreat price does NOT include:
meals, snacks, or beverages on the train
additional fees related to the train, including but not limited to insurance
Write in the Snow with us all four days, train and house:
$499
Not interested in riding the train up and back? Meet us up there and join us for Friday afternoon through Sunday evening instead. We know traffic can be challenging around weekends, so you are welcome to check in and out any time between 4 p.m. Friday and 10 p.m. Sunday. We ask that you keep us informed so we know when to expect you and can plan accordingly–and we worry.
Write in the Snow with us and skip the train:
$399

Email Bronwyn Emery at info@toliveandwrite.org to apply for a place in the Write in the Snow retreat.
If this retreat is a good fit, a $200 nonrefundable but fully transferable deposit is required by February 1, 2019; payment in full by March 1, 2019. I regret that as a solopreneur I am unable to refund any part of the weekend–but if you can't make it, you may sell or gift your place in the retreat to another writer or use it as credit for coaching or future workshops.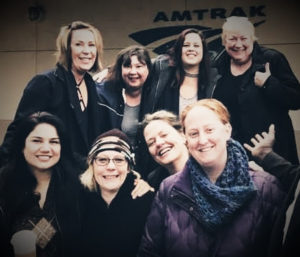 Embrace this opportunity to feed and pamper your writer self with a train ride through breathtaking scenery and four days devoted to your writing, tucked into a cozy hideaway and surrounded by other writers who share your love and respect for the craft.
You know you want to.
*We do not share the exact location of the retreat house until a day before we leave. We ask that the address be kept private. Photos on here are from past retreats and are meant to represent the kind of accommodations you can expect.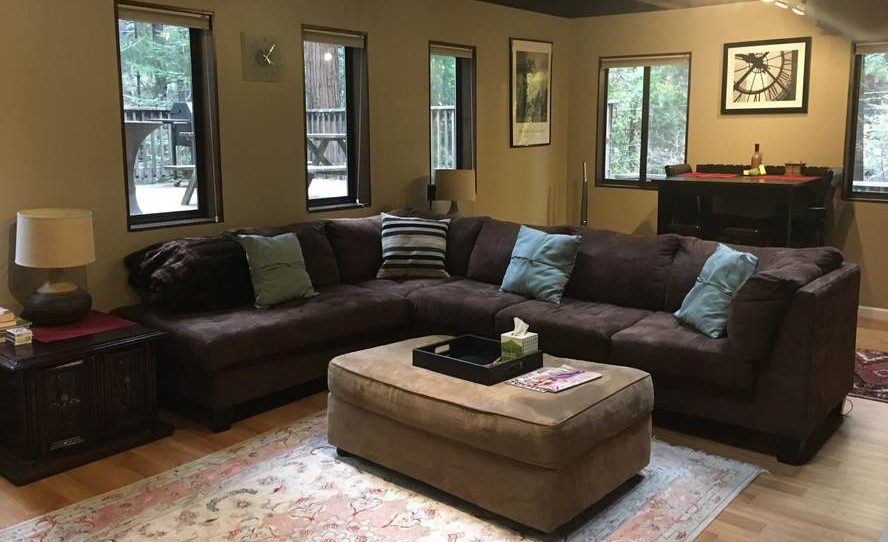 Sleeping options are sleepover-style and range from standard mattresses to sofas, sleeper sofas, futons, and air mattresses. you might be asked to share a bed, bunk bed, room, or loft.