Write Alongs. They're like meet-ups, only better, because you get to get some writing done, stay connected, and practice social distancing!
7 to 10 p.m. PST Tuesdays and Saturdays
10 a.m. to 1 p.m. PST every other day
Write Alongs are for those among us who like to write in the company of other people but are serious about getting some work done. The rules are: Get your beverage, join the Zoom meeting, open to your page, and save the talking for later.
We encourage you to socialize before and after we write, because that's how the verbal exchange of moral support happens, but we insist you keep quiet during. Your respectful silence at the Write Alongs is what we call tacit support.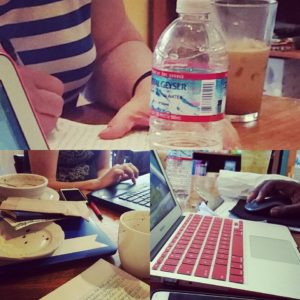 Zoom meeting IDs are shared with members of the To Live and Write in Alameda Facebook group only; membership in the Facebook group is free.
For more information, email info@toliveandwrite.org
Please follow and like us: