These workshops are open to members and non-members. To Live And Write has a very strong goal setting and tracking component, and since one of the most popular hands-on activities designed to bring your dreams into focus is creating a vision board, we have scheduled several vision board workshops again this year.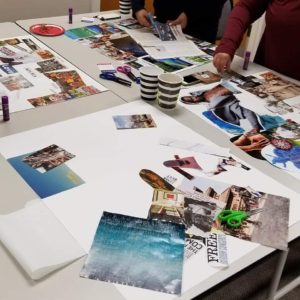 Glue, paper, scissors — why does anyone need a workshop for this? Because transforming dreams into reality requires a bit more than cut and paste. We chat about the nature of dreams and goals, and what it is we're truly seeking. We drink a little wine (or fruity water) and share some nibbles. We do a "self-fulfilling prophecy" exercise. And we pass around a bowl of mystery words to ponder as the new year unfolds.
Creating a vision board is also about being open to opportunities and possibilities that we can't imagine in this moment, but can understand are out there waiting for us once we open our minds to them.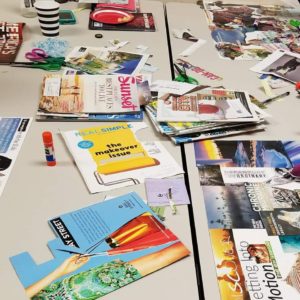 When we take the vague notions of what we want out of our mind's eye and transform them into visual displays for our actual eye, we feed our desire back to our brains with a whole new level of respect and awakening to possibility. When we see something we desire, we start thinking consciously and unconsciously about how to get it. Our subconscious takes over and we tend to make decisions and adapt behaviors in new directions in order to get what we want.
Choose from the following dates:
Saturday, December 29, 2018: 1 to 5 p.m.
Monday, December 31, 2018: 1 to 5 p.m.
Saturday, January 5, 2019: 1 to 5 p.m.
Join us for an afternoon focusing on what you want for a change.
You know you want to.