A Cohort writes for the pleasure of rising to a challenge and establishing a solid writing habit. It's about the craft, it's about becoming a stronger writer, and it's about sharing your work with the world. Members at this level focus on setting and meeting specific personal goals and developing the courage and joy it takes to write to a deadline and a specific audience. At the Cohort level, doors open to events and activities designed to stretch your skills and immerse you in the active writing life. We take your progress seriously. For $15/month (or $150 /year) we provide:
Everything in the Friends membership
Private discussion groups with specific topics
Private online write-alongs 
Accountability around the monthly challenges to support your creative habit
Exclusive invitations to Cohort events and activities
15% discount on labs, workshops, and studios
15% discount on one retreat annually
15% discount on merchandise
Basic, consistent support developing your author platform
One hour private coaching annually
Cohorts are intent on honing their skills in order to produce high quality work. You write short stories, fiction, non-fiction, and poetry. Or, you write books, blogs, articles, and screenplays. You seek out and accept opportunities to workshop with others, polish your work before sharing it with an audience, embrace contests and challenges with intent and imagination, and actively support and encourage newbies and Friends members who are just dipping a toe into the writing life.
You up your membership to Cohort because you want to finish that big project on your desk, take your storytelling to the next level, and give your work life in the world. You're standing somewhere on a learning curve, and wherever that is, you're excited about it. At this level, you're willing to invest in yourself in a way that motivates you to achieve while giving you space to do it in your time, at your pace.
Come be a part of a slightly more intense group, hell bent on making this writing thing happen.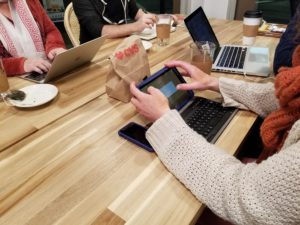 To Live And Write was created by Bronwyn Emery, a writing and creativity coach in the San Francisco Bay Area. She has been growing and nurturing an active resource and support group for writers on Facebook since 2014. She is the person behind the events, activities, challenges, and other shenanigans published here. Membership in To Live And Write falls under her coaching services.