*Formerly Write on the Rails. Due to Amtrak travel restrictions and removal of the observation car from the California Zephyr line, the train is no longer part of this retreat.

Friday, August 20 through Sunday, August 22: $299
Friday, August 20 - Monday, August 23: $399
(fee does not include transportation, accommodations, and meals)
Imagine yourself in a luxury suite at the Peppermill Reno spa resort,
writing in the company of a handful of other novelists and storytellers. Heads down and hearts up, separately but together you create an atmosphere of engagement and flow for each other. When it's time to check in with your writing coach, you're delighted to discover just how much progress you have made on your weekend goal in such a short time.
When it's time to break for lunch, perhaps you return to your own room for a nap, or maybe
you join a couple other writers to dine at one of the hotel restaurants downstairs. You might choose to take a dip in one of the outdoor pools or indulge in some much-needed self care at Spa Toscana. The 2-hour lunch breaks give you time to refresh your mind and body before reconvening with the group for more writing.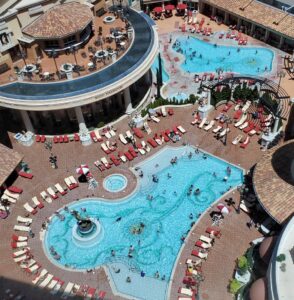 Speaking of lunch, without the train ride to bring us together on Friday, we will instead kick off the Write at the Resort retreat with lunch in Reno, so we can all get to know each other and chat about who we are as writers before digging into our projects. Please plan your travel accordingly. As a member of this retreat, you will be part of a private Facebook group where you can coordinate carpools and other travel details with fellow retreaters; you do not have to do this alone. The Facebook group is also where we will discuss details like where to meet for lunch on Friday.
If you can't make it to Reno by 100pm Friday, there will be another opportunity to bond at dinner Friday night.
We meet in the retreat suite Saturday and Sunday morning at 900am. Please keep in mind that meals are not provided on this retreat and sharing food is discouraged, even though each person must be fully vaccinated against Covid-19 to attend. You are welcome to bring coffee and breakfast to the retreat suite, but we will begin writing Daily Pages at 900am and the fewer distractions, the better.
Our long-standing practice of having dinner together every night of the retreat continues with Write at the Resort, 2021. We are mindful of different budgets within the group. Friday and Sunday dinners are at casual dining restaurants. Saturday dinner is at Bimini Steakhouse. Please check their menu ahead of time and email bronwyn.coach@gmail.com if their prices are prohibitive; it is more important to include everyone than it is to eat a fancy meal.
You must have proof of Covid-19 vaccination to attend this writing retreat.
Hand sanitizer will be available. Bring your favorite masks and be prepared to wear them.
Masks are not necessary in the retreat suite or walking around in the hotel, although we recommend wearing a mask in the lobby if you are sensitive to perfumes and fragrances. Essential oils, perfumed lotions, and fragrant soaps can trigger migraines in your writing coach and some fellow writers, so please save them for other events and activities.
Write at the Resort with us for $399 for four days or $299 for three days*
The Write at the Resort price includes:
group writing activities and discussions
workshopping the specific challenge(s) your project presents (optional)
individualized attention / one-on-one coaching
goal setting, tracking, and accountability to pull you through your project
time to write or dream on your own
opportunities to share your work with the group
opportunities to make deep and meaningful connections with other writers
the chance to write on a train as it crosses California, climbs snow-covered mountains, and emerges in Nevada
the chance to do it all again in reverse on the trip back
membership in a secret Facebook group
invitations to follow-up write-ins through the rest of the year, exclusive to retreat participants
The Write on the Rails price does NOT include:
travel and/or transportation to, from, or during the retreat
accommodations and/or associated fees and/or deposits
food and/or beverages
Write at the Resort with us for $399 for four days or $299 for three days*
The nonrefundable but fully transferable fee is required in full by August 15, 2021. I regret that as a solopreneur I am unable to refund any part of the retreat–but if you can't make it, you may sell or gift your place in the retreat to another writer or use it as credit for coaching or future workshops.
To Live & Write retreats are hosted by Bronwyn Emery, the writing and creativity coach behind this organization. She keeps the groups small to provide a strong level of individual attention and facilitate connection and support among participants. Each retreat is a safe space because she believes in (and has witnessed) their power to invite access to deeper expression and stimulate new levels of creativity.
Basic schedule: You are an adult and may opt in and out of most of the scheduled activities. Dinner together is the one mandatory event on Friday, Saturday, and Sunday. 

Friday:
100pm: Gather for lunch in Reno; destination restaurant TBD by group within Facebook
300pm: Check-in time at Peppermill. Get situated in your room, grab your writing tools, and find your way to the retreat suite for Write Along.
700pm: Break for dinner together downstairs.
900pm: Optional Proof of Write; we decide as a group whether to have it the first night.

Saturday and Sunday
900am-1000am: Daily Pages in the retreat suite, followed by goal- and intention-setting.
1000am-100pm: Morning session: Timed focus blocks and check-ins for writing, pacing, and goal-spotting. 
100pm-300pm: Lunch break: pair off, enjoy time alone, or join a group for a meal and rest. 
300pm-600pm: Afternoon session: Fewer timed focus blocks with longer stretches between check-ins for writing, pacing, and goal-spotting.
600pm-800pm: Dinner break: We all dine together at an agreed time and place
800pm-900pm: Proof of Write: prove you wrote that day by reading up to 5 minutes of the day's work to the group for positive feedback. Zoom in from your room while you relax. 

Monday
1100am: Check-out time at Peppermill. 
*This is a one-time special "welcome back to the world of in-person retreats!" price. Future retreats will average $150-$200 per day, excluding travel, meals, and accommodations. If you would like us to take care of your travel, hotel accommodations, and/or food and non-alcoholic beverages for either retreat, Email info@toliveandwrite.org to discuss details and payment options.