Friday, July 16 through Monday, July 19
Imagine yourself poolside at the Peppermill Reno, working on your novel in a private cabana with a handful of other writers doing the same thing.
Picture yourself adding word count between dips in the pool and getting to know your fellow retreaters, making more significant progress on your book — or blog — or short story collection — than you thought possible, bolstered by the support and encouragement of a group of writers who are also 100% engaged in this writing getaway.
That's how this retreat begins on Friday, July 16. After an optional but strongly encouraged group lunch in the area (details and arrangements TBD in the Facebook group by attendees), we gather to get some writing in poolside while we wait to be able to check into our rooms at 300pm. We will return to write in the cabana several times until time runs out at 1000pm.
The rest of the retreat takes place in your writing coach's suite in Tuscany Tower, with a 2-hour break midday Saturday and Sunday to go back to the pool or visit the spa (plan ahead; they book up fast). Each day offers 3- and 4-hour writing blocks that you can opt in and out of according to your needs.
Coach Bronwyn Emery provides structure, prompts, and pacing within the retreat suite and keeps you on track with goal-spotting, check-ins, and private sessions (on request) across the entire four days, whether the group is gathering poolside or inside.
Inspiration, motivation, and accountability–that's what you get from a retreat like Write by the Pool.
What could you do, what could you write, if you could just get away from the day-to-day, just for a few days, without chores or children or well-meaning partners to distract you?
You don't have to be writing a novel to Write by the Pool with us this summer, but you do have to engage the drive to ignore your inner editor and power through extraordinary word count goals if you want to get the most out of this 4-day retreat.
For writers itching to do some generative work on new projects, Bronwyn can pull from any number of her writing labs and workshops to design a personalized retreat within the retreat just for you.
How would it feel to spend hours upon hours writing, surrounded by a friendly group of writers and poets who get you? We get what it means to have a story inside that has to come out and we get what it means to have work, family, and a million other obligations and responsibilities pushing your writing to the back burner. We also know what it means to be able to carve out a place in time and space where you can fully immerse yourself in what you love.
Does it sound like a dream to your writer soul? Every year, a group of writers just like you make all of this real for themselves and each other. Join us.
Write to your heart's content this summer.
You know you want to.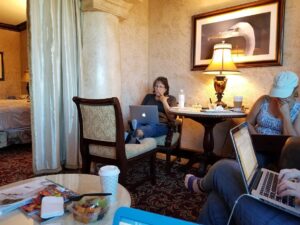 Hesitant? We host a meet-and-greet on Zoom for newbies like you a few nights beforehand and you will be included in the private Facebook group as soon as you register, so you can start to get to know the other writers right away.
Really hesitant? Before you pay, Bronwyn can pair you up with a repeat-retreater who is happy to tell you about their experiences and what to expect at Write by the Pool 2021. But let us know immediately that you want that conversation, because our retreats fill up super fast.
Bring your Covid-19 vaccination card and your favorite masks, because only the vaxxed and masked will be able to attend this retreat. Mask restrictions vary from state to state and county to county, so a willingness to have a mask on hand and a readiness to wear it when asked is essential.
Feel free to bring these masks, too! The more the merrier! But keep the perfumes, fragrant lotions, and essential oils to a very bare minimum, please. We have super-sensitive allergies among us.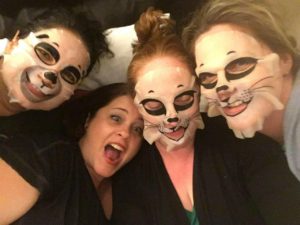 When you join us poolside, you are a member of a tight-knit group of writers who have already connected on Facebook in a secret group where you have shared your word count goal, the premise of your novel, a brief idea of who you are, and whatever snacks and/or drinks you plan to bring on the trip.
This Facebook group remains in play throughout the weekend as a tool to record achievements, set reminders, coordinate meals, make plans, and continue to encourage each other.
As the months progress, so this Facebook group evolves. Think of it as an extended retreat, where the idea of old-fashioned moral support in a modern world really comes into play and you find yourself invited to several follow-up write-ins and opportunities to share. This group exists to provide custom support, accountability, and camaraderie to this specific set of writers.
The Write by the Pool price includes:
group writing activities and discussions
workshopping the specific challenge(s) your project presents (optional)
individualized attention / one-on-one coaching
goal setting, tracking, and accountability to pull you through your project
time to write or dream on your own
opportunities to share your work with the group
opportunities to make deep and meaningful connections with other writers
the chance to write in a fancy cabana next to a fancy pool at a fancy hotel
membership in a secret Facebook group
invitations to follow-up write-ins throughout the summer
The Write by the Pool price does NOT include:
accommodations and/or associated fees and/or deposits
travel to or from the Peppermill Reno
food and/or beverages
Write by the Pool with us for $399*
The nonrefundable but fully transferable fee is required in full by July 1, 2021. I regret that as a solopreneur I am unable to refund any part of the retreat–but if you can't make it, you may sell or gift your place in the retreat to another writer or use it as credit for coaching or future workshops.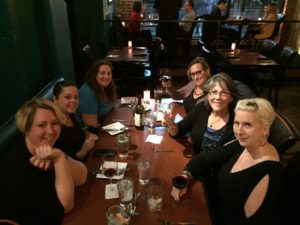 To Live & Write retreats are hosted by Bronwyn Emery, the writing and creativity coach behind the organization. She keeps the groups small to provide a strong level of individual attention and facilitate connection and support among participants. Each retreat is a safe space because she believes in (and has witnessed) the power of safety to invite access to deeper expression and stimulate new levels of creativity.
SAMPLE SCHEDULE: You are an adult and may opt in and out of most of the scheduled activities. Dinner together is the one mandatory event on Friday, Saturday, and Sunday. 

FRIDAY: 
100pm: Begin retreat. Lunch together.
300pm: Afternoon writing session. Hotel rooms open. Check in at your pleasure and return to write. 
600pm: Break. Freshen up for dinner.
700pm: Dinner together.
830pm: Proof of Write in the cabana.

SATURDAY & SUNDAY: 
900am: Gather in retreat suite to set goals and intentions for the day and do our Daily Pages.
1000am: Morning session: Timed focus blocks and check-ins for writing, pacing, and goal-spotting. 
100pm: Lunch break: pair off, enjoy time alone, or join a group for a meal and rest. 
300pm: Afternoon session: Fewer Timed focus blocks with longer stretches between check-ins for writing, pacing, and goal-spotting.
600pm: Break. Freshen up for dinner.
700pm: Dinner together.
830pm: Proof of Write

MONDAY: 
900am: Daily Pages in your room or the retreat suite.
1100am: Hotel check-out time. Meet for Elevenses! discussion about what's next for you and your writing.
100pm: End retreat.
*This is a one-time special "welcome back to the world of in-person retreats!" price. Future retreats will average $150-$200 per day, excluding travel, meals, and accommodations. If you would like us to take care of your train travel, hotel accommodations, and food and non-alcoholic beverages for either retreat, Email info@toliveandwrite.org to discuss details and payment options.